File types tab
You can select types of multimedia files that Tray Player will play by default and specify other options connected with this.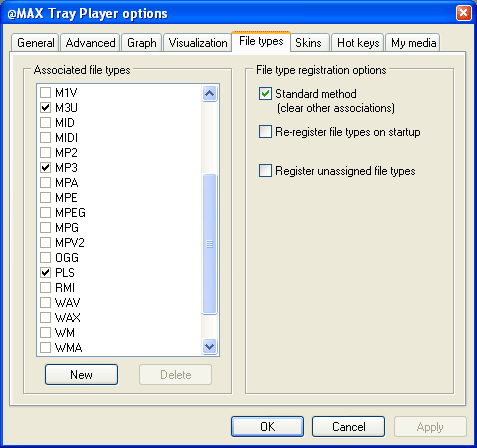 Option
Description

Associated file types

The list of multimedia types (extensions) that should be played in Tray Player. The Play with Tray Player item is added to the context menus of such files. Besides, the file types selected in the list will be played in Tray Player when you double-click them or press the Enter key when they are selected in Explorer.

New (Delete)

Allows you to add (remove) a new file type to the list of those supported.

File type registration options

Standard method (clear others association)

Tray Player adds its own menu item to the context menu of the supported file types in the Explorer. So the files remain associated with other programs (we hope you admire how tactful we are about your file associations J). Select this checkbox if you want to associate the selected file types with Tray Player in the standard way.

Re-register file types on startup

If this checkbox is selected, the player checks its file associations each time it is started and restores them if necessary.

Register unassigned file types

If this checkbox is selected, all file types supported by Tray Player that are not associated with other programs become associated with Tray Player.
See also: